START UP RESEARCH was a 2-day meeting where small research groups of young scholars, advised by senior researchers with a well-established experience in different areas of Statistics, will be asked to develop innovative methods and models to analyze a common dataset from the Neurosciences.
START UP RESEARCH was held on June 25-27, 2017 at the Certosa di Pontignano, the official conference center of the University of Siena, Tuscany.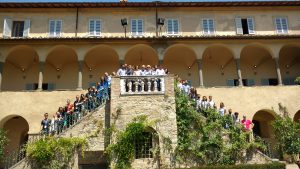 New opportunities and scientific challenges are associated with the current big data era. New applications require the developments of novel and advanced methodologies for modeling and analyze the associated datasets. In this landscape, the new generations of researchers in Statistics play an important role for the modern Statistics and Data Science.
For these reasons, this scientific event played as a stimulator of research. The meeting represented a great opportunity for interaction, sharing ideas and promoting the discussion. As a result, methodological and applied contributions to the statistical literature are forthcoming.
START UP RESEARCH was a satellite event of the 'Statistical Conference on Statistics and Data Science: new challenges, new generations' that will be held in Florence on June 28-30, 2017.
The scientific follow – up of this meeting will be held on June 19 in Palermo.