Siena is built on three steep hills and encircled by ancient walls. The historic centre of Siena is a Unesco World Heritage Site. Siena is still deeply rooted in ancient traditions, chiefly the spectacular Palio, a horse race around the central piazza that takes place twice a year, in which the seventeen Contrade (city zones) continue to celebrate the greatness of the ancient Sienese Republic.
Siena is not only one of the most beautiful cities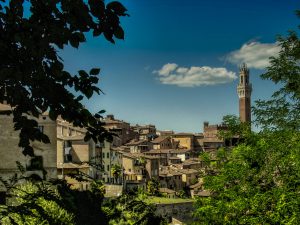 in Italy, as witnessed by its title of World Heritage Site (an accolade it shares with San Gimignano, Pienza and the Val d'Orcia, all located in the province of Siena); it is also home to the oldest bank in Europe and one of the Continent's oldest universities. The city's history is characterized by a focus on rights and solidarity, as testified by the frescoes in the Town Hall and the Santa Maria della Scala Museum (the former hospital).
Siena was the first city in the world to offer a unique and exemplary portrayal of what Good Government can and should be. Ambrogio Lorenzetti's frescoes in the Sala dei Nove, characterized by an original interpretation of the classical world and a fruitful relationship with the ideologists of city republics of the 13th century, heralded the concept of citizenship that resulted in the civic humanism of the Renaissance. This by indicating the features of the citizen's regeneration and the virtues of a new world of urban policy, which mark the first steps in the rediscovery of democracy.
Built along the pilgrim route from Canterbury to Rome known as the Via Francigena, and situated opposite Siena's Cathedral, Santa Maria della Scala was one of the first examples of hospital-cum-hostels in Europe, accommodating pilgrims and helping abandoned children and the poor, under its own independent and intricate organization. The frescoes of the former hospital's Sala del Pellegrinaio, for instance, realistically depict the charitable works that characterized the day-to-day life of the hospital.