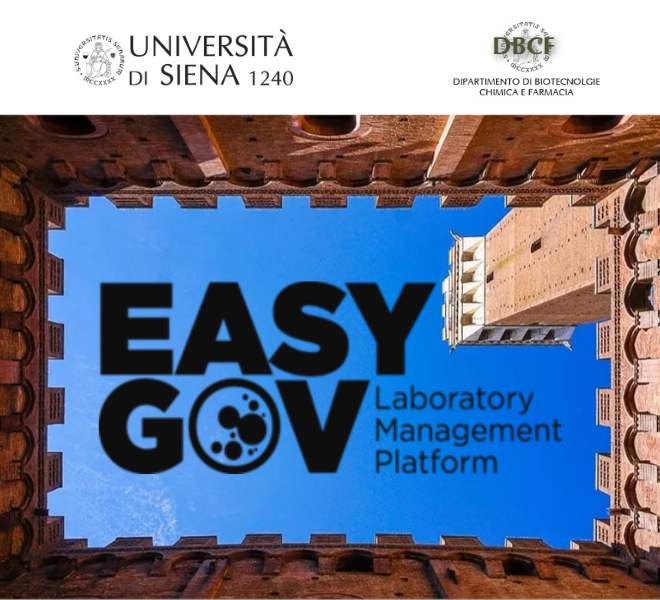 https://easygov.bio.uminho.pt/
On behalf of the EASY GOV – Laboratory Management Platform – Third Transnational Project Meeting , FREE face-to-face and online event, the Italian Partner would like to bring you up to date with the presentation of part of the Research at the DBCF (Department of Biotechnology, Chemistry and Pharmacy) and of "The Status of the Art" of the EASY GOV Platform.
The EASY GOV Project – Laboratory Management Platform (Project No. 2020-I-PT0I-KA226-HE-094702) , coordinated by the University of Minho, was approved under the Strategic Partnerships Action of the Erasmus + Programme.
The project has as partners the institutions: Universita degli Studi Di Siena (Italy), University of Thessaly / Panepistimo Thessalia (Greece), Rigas Stradina Universitate (Latvia) and New Consulting – Sistemas de Informação, Lda (Portugal).
Under the Project EASY GOV, the Partners are developing a simplified, assertive and innovative laboratory management platform, based on common guidelines to motivate and increase the efficiency of human resources and reduce operation cost within the institutions.
The project will improve online, distance and mixed learning.
This web-platform will help the management of all laboratorial needs and facilities such as laboratory equipment, chemicals, biological resources, laboratory wastes, laboratory material, laboratory spaces, services, laboratory safety and training taking into account the innovative practices. The platform will promote the implementation and development in institutions of an increased security culture.
The Free face-to-face and online Meeting will take place at the Complesso Didattico di San Miniato of the University of Siena. The meeting is free but with compulsory online booking – the only way to register – which can be done no later than September 16, 2022, using the appropriate form.
The weather in Siena is usually very nice at this time of year and the city offers numerous opportunities for extracurricular visits.
We are sure that the EASYGOV Meeting , in Siena, will be a fruitful meeting set in historical surroundings, and we are looking forward to seeing you there.